da Vinci 1.1 Plus 3D Printing Machine
Constantly Connected
da Vinci 1.1 Plus is equipped with the Wi-Fi connectivity providing an interactive experience that lets users engage and print from your Ipad or Android tablet.
Always Accessible
With XYZprinting's Android app and the mobile compatibility of the da Vinci 1.1 Plus, users can monitor and setup print jobs through IPad or Android tablet whenever, wherever.
Stand-alone Printer
Featuring a USB port and Android-based 5″ color LCD touch panel, the da Vinci 1.1 Plus enable users can simply plug in a USB drive and press print or send a print job via the Wi-Fi connection to print from the touch screen.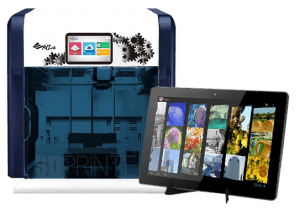 Quality 3D Printing Experience Anywhere, Anytime